CCHS PO Box 811, Chester, SC 29706
Phone: 803-385-2332
email: ccmuseum@truvista.net


The Land between two rivers was divided by The Great Warrior Trading Path (a.k.a. Occanechi Path, The Path to the Catawba, the Catawba Road, Indian Trading Path, Warriors' Path, etc.) eventually became part of the Great Philadelphia Wagon Road, which went right over the top of the hill in the city of Chester, SC. The Saluda Gap Road, another major path also crossed the Indian Trading Path here in Chester County.


Chester County, South Carolina had its beginning in 1750 when the Scots-Irish from Pennsylvania and Virginia made their way into the area, settling on Rocky Creek and Fishing Creek. The County was originally part of Craven County, a large region which encompasses much of the Upcountry of South Carolina. In 1785 the state was divided into 37 judicial districts and Chester County came into existence. The first court in the area was held at Walkers, now known as Lewis Turnout in 1776. The present courthouse in the town of Chester was the third in town and was built in 1852.


The Chester County Historical Society is dedicated to the preservation of Chester County history, and in promoting historical tourism by displaying the artifacts, and the history of, Chester County, South Carolina.


Come Visit: We have reference materials as well as Historic and Local Tourism information available.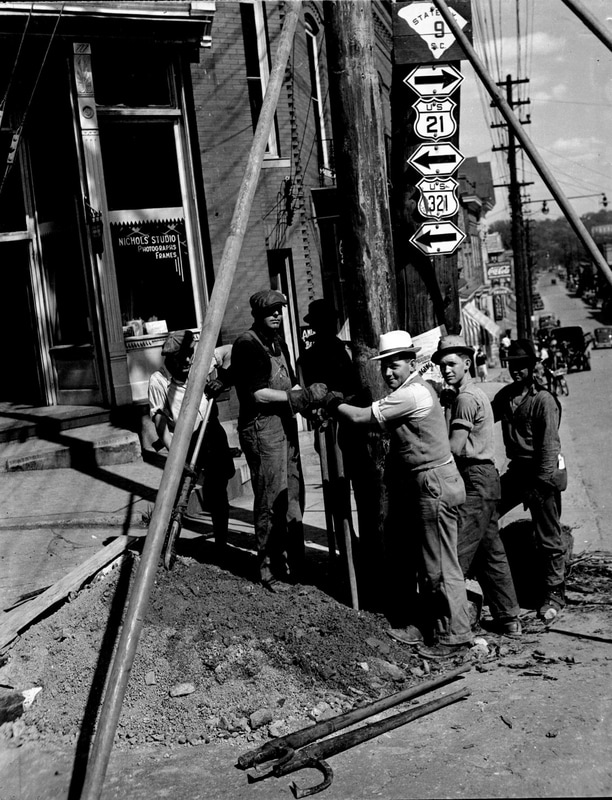 The Chester County Historical Society is proud to be a contributing local component to The Way We Worked, a traveling Smithsonian Display coming to Chester City Hall June 24 - August 6, 2017

Both our Museums will be offering free guided tours of our museums! We will be focusing on The Way We Worked here in Chester County, South Carolina as well as holding guided Walking Tours of the Historic District in the City of Chester. Our focus will be on Chester County Photograpers in addition to our large Native American, Springs & Textiles, and Gun collections.

FREE TOURS - Historical Society Museum:
10am
11am
1pm
2pm
ONLY

SAVE THE DATE*Save the date*SAVE THE DATE
July 28, 2017
Chester War Memorial Building
1pm

The Chester County Historical Society Proudly presents:
The Rev. Earl Lee author of The Gayle
Lecture and Discussion
Photography Display
Book Signing
​


The Herbert and Anna Lutz Foundation has awarded a generous grant to the Chester County Historical Society for the purpose of replacing our scanners and to purchase a new large format printer. We are thankful for this generous support!
---